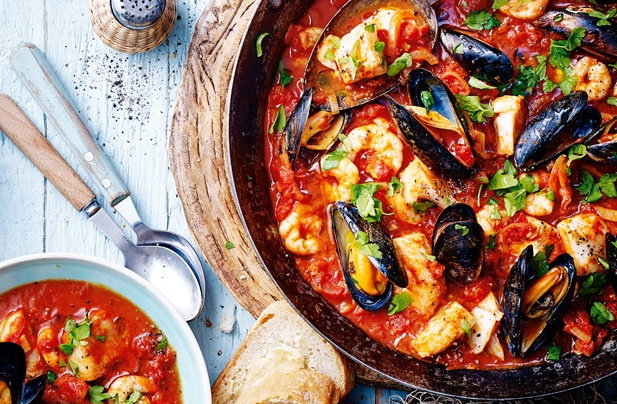 A deeply flavorful, elegant meal that's a breeze to prepare and perfect to serve to company! This NEW Lean & Green Seafood Stew recipe, developed by The Culinary Institute of America Consulting*, makes 4 servings (1 Leanest, 2 Healthy Fats, 3 Green, & 2 Condiments per serving). 
| | | | |
| --- | --- | --- | --- |
| 1 Lean | 3 Green | 2 Condiments | 2 Healthy Fat |
Lean and Green Seafood Stew
Ingredients:
8 tsp olive oil

¼ tsp red pepper flakes

½ cup scallions, cut into 1-inch pieces

1 cup diced fennel

1 cup diced green bell pepper

1, (28-oz.) can diced tomatoes

½ lb. shrimp, half lengthwise

½ lb. bay scallops

½ lb. tilapia, diced

1½ tsp salt

½ tsp ground black pepper

½ lb. lump crabmeat

½ cup fresh basil, cut into fine strips
Lean and Green Seafood Stew
Directions:
In a saucepan, sweat the red pepper flakes in the olive oil for about 30 seconds.

Add the scallions, fennel, and green pepper, and continue to sweat for about 3 to 4 minutes over moderate heat.

Add the tomatoes, including the juice, and bring to a boil.

Simmer for about 8 minutes until all vegetables are tender.

Combine the halved shrimp and diced tilapia with the scallops in a bowl and season with salt and pepper; mix very carefully.

Add the seasoned seafood to the simmering tomatoes, bring to a near boil, and cook gently for 3 to 4 minutes.

Add the crabmeat and basil, stir very carefully, and heat through.

Divide stew into 4 equal portions (about 2 cups per serving), garnish with basil leaves, and serve hot.
Nutrition Facts Per Serving: 340 calories, 42g protein, 16g carbohydrate, 11g fat