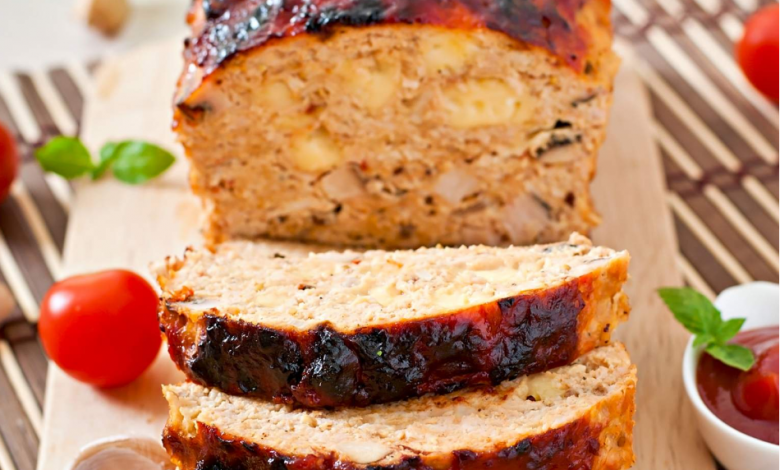 OPTAVIA Counts:
| | | |
| --- | --- | --- |
| 1 Lean | 3 green  | 2 Healthy Fat |
Meatloaf is, without a doubt, an American dish. This Turkey Meatloaf with Fennel is a wonderful substitute for beef meatloaf since it's made with lean ground turkey and fresh veggies, and it doesn't use breadcrumbs or unnecessary carb fillers.
TOASTING PINE NUTS – Preheat your oven to 350*F. While the oven is heating up, spread the PINE NUTS on a baking sheet in an even layer. Bake for 5 to 7 minutes, or until lightly brown and fragrant. Gently toss them halfway through baking so that they cook evenly. Keep a close eye on them while they're in the oven–they can burn quickly if you're not careful!
Is it possible for you to enjoy American cuisine at breakfast, lunch, and dinner? Make an American dinner that's 100% on plan and completely delicious with this lean and green Turkey Meatloaf with Fennel recipe.
| | | | |
| --- | --- | --- | --- |
| Difficulty | Servings | Cooking Time | Prep Time |
| Easy | 4 | 37 minutes | 8 Minutes |
LEAN & GREEN TURKEY MEATLOAF WITH FENNEL
INGREDIENTS
2 lbs Lean Ground Turkey
3 cup Napa Cabbage
2 stalk Green Onions minced
1/4 cup Pine Nuts crushed
1 tsp Paprika
1 tsp Salt divided (optional)*
1 tsp Black Pepper divided
1 tbsp Olive Oil
2 small Fennel Bulbs
2/3 cup Chicken Stock
2 tbsp Parmesan Cheese
LEAN & GREEN TURKEY MEATLOAF WITH FENNEL
INSTRUCTIONS
Preheat the oven to 350 degrees Fahrenheit. Toast pine nuts for 5 to 7 minutes in the oven.
After toasting pine nuts in the oven, set the temperature at 400*F.
In a mixing bowl, combine the ground turkey, Napa cabbage, green onions, toasted pine nuts, paprika, 3/4 teaspoon salt and 1/2 teaspoon salt (optional), and 1/2 teaspoon pepper. Place a sheet of parchment paper onto a baking sheet. With your ground turkey mixture, form a loaf that is 7-inches long and 4-inches wide. Set the loaf on the prepared baking sheet.
Bake the meatloaf until it reaches an internal temperature of 165*F, which should take about 30 minutes.
While the meatloaf is baking, remove the green stalks of the fennel and cut the bulbs in half lengthwise. Cut each half of the fennel into quarter wedges and remove the center core. Reserve some of the fine fronds for later use, cut them coarsely.
Heat a nonstick skillet with oil over medium-high heat. Add the fennel wedges and cook until lightly browned, about 5 minutes per side.
Add the stock and any additional salt and pepper (if desired), cover the pan, and bring to a boil. Reduce the heat to medium-high and cook for 5 minutes or until the fennel is soft. Remove the lid, raise the temperature, and continue cooking until all of the liquid has evaporated. Stir in half of the parmesan cheese and some fennel fronds.
After the meatloaf is done cooking, slice it into pieces and serve with fennel on the side.