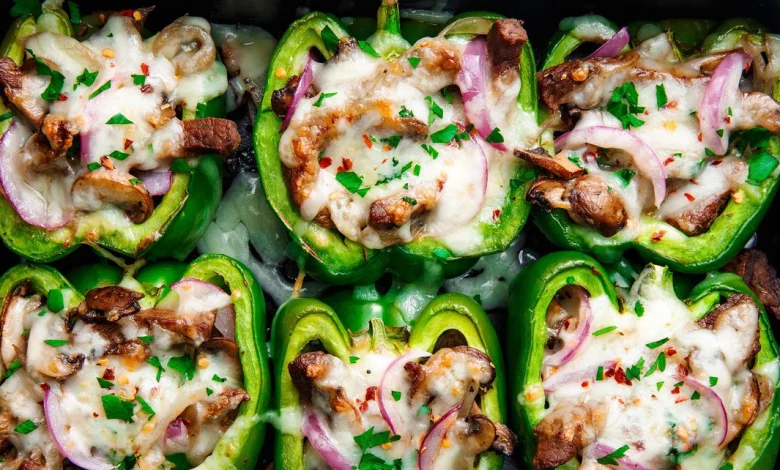 Optavia Counts:
PER SERVING:
| | | |
| --- | --- | --- |
| 1 Lean | 3 Green | 3 Condiments |
Are you tired of the same old boring meal options? Then try our Lean and Green Philly Cheesesteak Stuffed Peppers recipe! This delicious and nutritious dish is the perfect way to switch up your meal routine while still maintaining your healthy eating habits.
By using palmini spaghetti as the base and stuffing it inside juicy bell peppers, you'll enjoy the classic taste of a Philly cheesesteak in a healthier, low-carb form. Whether you're trying to maintain a healthy weight, follow a specific diet, or simply looking for a tasty meal option, our Lean and Green Philly Cheesesteak Stuffed Peppers are sure to satisfy. So grab your apron and let's get cooking!
Lean & Green Philly Cheesesteak Stuffed Peppers
Ingredients:
4 medium green bell peppers

1 cup diced yellow onion 

2 garlic cloves, minced 

1/4 cup low-sodium beef broth 

6 oz sliced baby bella mushrooms 

1 lb thinly shaved, deli roast beef 

4 Tbsp low-fat cream cheese 

4 1 oz slices of reduced-fat provolone cheese
YIELD:
4 SERVINGS

12 BELL PEPPER HALVES PER SERVING 

TOTAL TIME 30 MINUTES 
Lean & Green Philly Cheesesteak Stuffed Peppers
Directions:
Preheat oven to 400°F 

Slice peppers in half lengthwise, remove ribs and seeds, and set aside.

In a large skillet, sauté the onions and garlic in broth over medium-high heat for about 5 minutes or until the onions are translucent. Add the mushrooms, and continue to cook until the mushrooms are tender. 

Mix in the roast beef and heat through, about 3 to 5 minutes. Remove the skillet from heat, and stir in cream cheese. 

Line the inside of each bell pepper with a quarter slice of cheese. Next, fill each pepper with an eighth of the roast beef mixture, then top with another quarter slice of cheese. Repeat for remaining bell pepper halves. Bake for 15 to 20 minutes until the peppers are tender and the cheese on top is melted and bubbly.